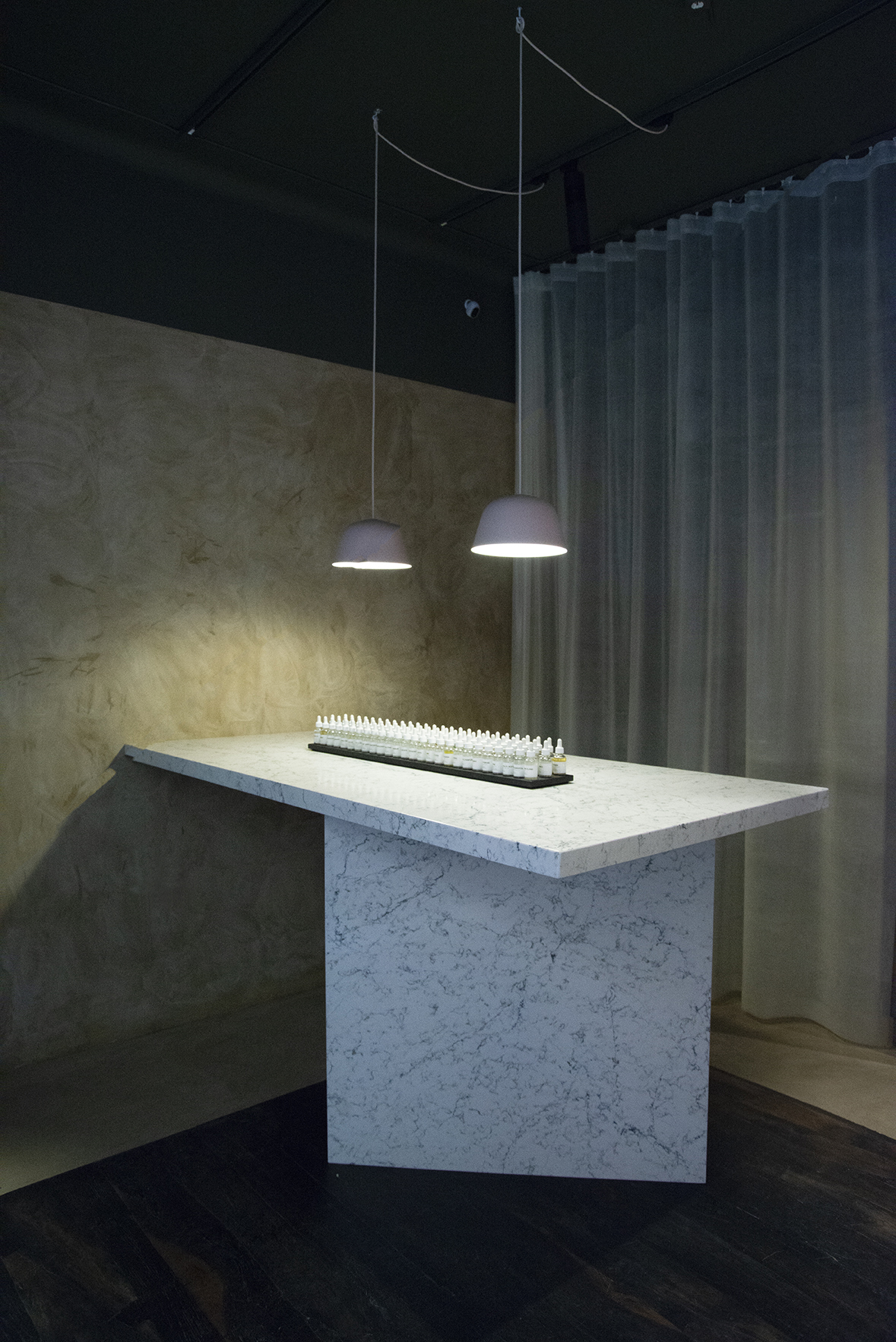 Studio
Welcome to our scent studio at Östgötagatan 18. Here you will create your own perfume through botanizing our scent library of 80 carefully selected ingredients. Get acquainted with everything from natural ingredients like bergamot, jasmine and patchouli to synthetic classics like Hedione and Iso E Super.

Once finished browsing, you will create a unique formula and eventually blend your own fragrance. A bottle of 30 ml Eau de Parfum will accompany you home and the formula is put on file so that you can re-create the perfume. You can bring up to two friends as company.


Price: 2500 SEK / person



Price accompanying friend: 300 SEK / person (please note that accompanying friends will not create perfumes of their own)


Price for ADDITIONAL bottles: 900 SEK (pickup in store)




EACH SESSION IS 90 minutes



Booking: please book here (we recommend early bookings to be able to find a suitable time)
Maceration: The perfume needs to mature for at least a month, preferably longer, before it reaches its full potential

Group bookings: The scent studio can be booked for corporate events and by larger groups (five people or less), contact us for more information

---
Gift vouchers
The gift voucher will be sent to the provided address by mail and will usually arrive within 1–3 days. Gift vouchers can be ordered
here
. We only ship within Sweden.
Price / Gift Card: 2500 SEK

Price / accompanying friend: 300 SEK

Validity: 12 months from point of purchase

Booking: please book here (we recommend early bookings to be able to find a suitable time)

Missing shipment: Should the gift card not arrive on time please contact us

Payment in store (debit cards): MasterCard, Visa, American Express, Maestro, Visa Electron, V Pay, JCB, Diners Club, China Union Pay

Mobile Payment (Swish): Swish number 1234611539 (please enter your full name in the message field)

Please inform us by email when payment has been made. We will usually mail the gift card on the same day (except on Sundays and Mondays when we're closed for business)

Payment by invoice (businesses only): Please provide your invoicing details when ordering. Invoices are delivered by email and are due within 15 days.



FAQ
BOOKING

We welcome customers Wednesdays through Fridays from 10:30 am to 6 pm, Saturdays from 10:30 am to 4 pm. Weekday mid day slots are usually easier to find available. Afternoons and Saturdays get fully booked quickly. Collect & Bottle reserves the right to extend the validity of gift cards and use a queue system during periods when we are fully booked. We have no drop in slots, please make your booking in advance.

The studio doubles as a store and showroom. If you find this distracting we also have a more secluded area available. Note that available slots vary during the year, we recommend booking early. Please book your session here.



ACCOMPANYING FRIENDS

You may bring two friends as spectators, please notify us about this beforehand. You will end up with a unique product but each sessions is also an experience. Therefore, we charge 300 SEK per accompanying friend. No children allowed.



RETURNS

When purchasing gift cards by email, you may return them within 14 days of purchase. This does not apply to gift cards purchased in-store, which are non-refundable.



ADDITIONAL BOTTLES

If you want to order a new or additional bottle of perfume from the same formula, please contact us. An identical label, but with a new date, will be applied. The cost is 900 SEK (30ml) or 1800 SEK (100ml) for pickup in-store. Shipping is 200 SEK and we only ship within Sweden.



SCENT LIBRARY

We want to offer a wide variety of materials, that's why the scent library consists of no less than 80 natural and synthetic ingredients. This may mean that you will experience olfactory fatique after a while of smelling. If you know beforehand of any ingredients that you do not like – smell these quickly, or completely refrain from smelling them, to focus on the ones you actually appreciate or that will match your idea for the perfume.

ANIMAL TESTING

Our ingredients and products are not tested on animals.



IMPAIRED SENSE OF SMELL

In some people the sense of smell may be reduced for various reasons, with age playing a big part. Individuals with an impaired sense of smell will most likely find it harder to pick up certain materials included in the library, or will experience olfactory fatique quicker than usual.



CANCELLATIONS

Must be done 48 hours in advance. Late cancellations or no-shows will be fully charged and gift cards will be considered as redeemed.


PRIVATE USE ONLY

You will create a perfume solely for personal use. The product may not be sold to third parties and if it is to be given away, you are responsible for informing the recipient that the product has not been subjected to the tests required for a product that goes into the mass consumer market. Our customers should be over the age of 18 or have a written approval from a guardian.



OTHER INFO

We can not with full certainty say that you will love your perfume. Each formulation is unique and has likely never been tried before. With us, perfumes of varying quality are created, some customers get amazing results while others do not quite reach the same level. Scent is subjective and there are as many assessments of a perfume as there are people in the world. The service we offer is primarily experience-based, an immersion into the world of fragrance and perfume. We charge for our time and material costs. All perfume formulas created with us are copyright Collect & Bottle AB.